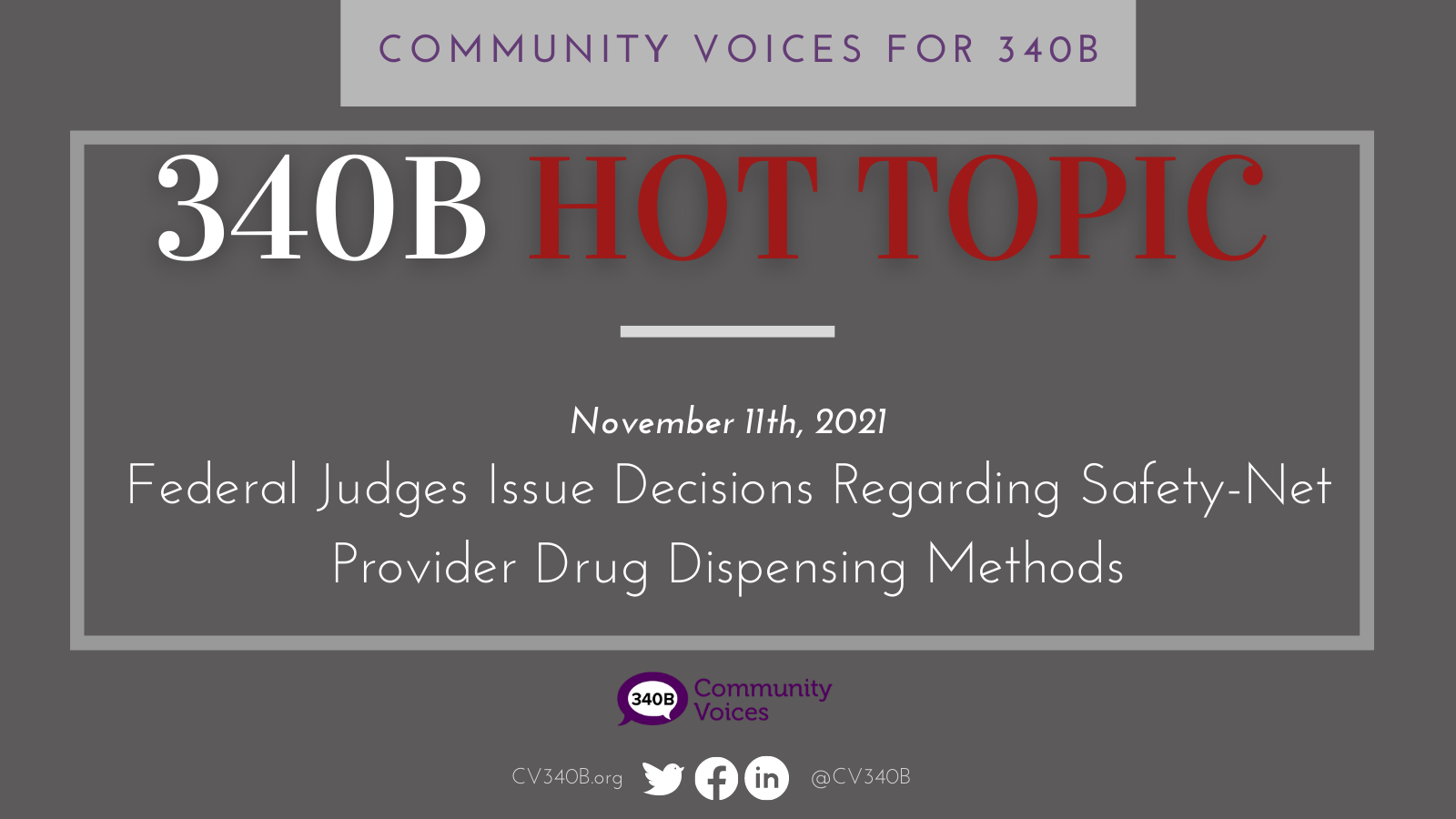 Federal Judges Issue Decisions Regarding Safety-Net Provider Drug Dispensing Methods
Over the past two weeks, federal judges have issued decisions that directly impact the health and safety of underserved communities and the safety-net providers that serve them.   Each decision regards whether safety-net providers are entitled to use pharmacies that are not located at the provider's physical location ("contract pharmacies") to dispense drugs at locations convenient for their patients, who often live in vulnerable communities.  Thus far, the majority of judges have determined that the 340B statute permits safety-net providers to use contract pharmacies and that drug companies may not circumvent their statutory obligation to offer 340B prices by placing unilateral restrictions on 340B prices.
Judge Sarah Barker, in the U.S. District Court for the Southern District of Indiana, rejected Eli Lilly's 340B price restrictions on drugs dispensed at contract pharmacies and upheld HRSA's view that drug manufactures may not place any restrictions or conditions on their 340B pricing obligations.  She decided that "the fairest and most reasonable interpretation of the 340B statute would not authorize drug manufacturers to impose unilateral restrictions on the distribution of the drugs that would frustrate Congress' manifest purpose in enacting the statute."  Similarly, Judge Freda Wolfson, in the U.S. District Court for the District of New Jersey, decided that Novo Nordisk and Sanofi cannot "unilaterally impose restrictions on [their obligation to offer 340B prices] to covered entities and that [the two drug companies'] restrictive policies must cease."  These two judges issued decisions impacting three drug companies' lawsuits to challenge the safety-net providers' use of contract pharmacies.   Both judges recognized that Congress considered limiting the ability of safety-net providers to dispense drugs to their patients to on-site pharmacies only and that Congress specifically chose not to pass a law restricting how safety-net providers distribute drugs to their vulnerable patients.  Instead, Congress gave the Nation's healthcare safety-net broad latitude to choose how they care for the underserved communities they serve.
In stark contrast to the decisions issued by these two more senior judges, Judge Dabney Friedrich in the U.S. District Court for the District of Columbia issued a decision in a consolidated lawsuit brought by Novartis and United Therapeutics.  She decided that HRSA's interpretation of the statute, that manufacturers cannot impose any 340B pricing restrictions, is incorrect.  The judge ruled that Congress must either amend the 340B statute or HRSA must issue a formal regulation or a well-developed legal theory justifying enforcement against the specific 340B pricing restrictions issued by United Therapeutics and Novartis.
Given the high-cost and administrative burden of owning and operating an on-site pharmacy, many safety-net providers have and continue to rely on contract pharmacies to distribute drugs to their patients and obtain 340B savings.  Instead of investing hundreds of thousands of dollars to establish on-site pharmacies, the Nation's safety-net providers focus on using their limited resources to care for their vulnerable and underserved communities.